Carpentry and consumption
We have the warmest summer in years, and almost every day we can work outside. We fixed the gutters and got a dehumidifier into the too-humid basement, ticking off task after task on the ever-growing todo-list.
Every carpentry task is yet another excuse to go and get some new toys, sorry I mean tools. I have been talking about our move out to the countryside as an opportunity to live with low ecological footprint and low consumption level. However, the first weeks here have more resembled a shopping spree.
Last week, one of our guests stepped through a rotten plank on our deck, and I immediately took the opportunity to purchase a Makita mitre saw. (Just like the one my friend Vince has, for which I have envied him for years...)
First we wrecked out the rotten remains of this part of the old deck, before we could make a better groundwork and screw the new deck in place.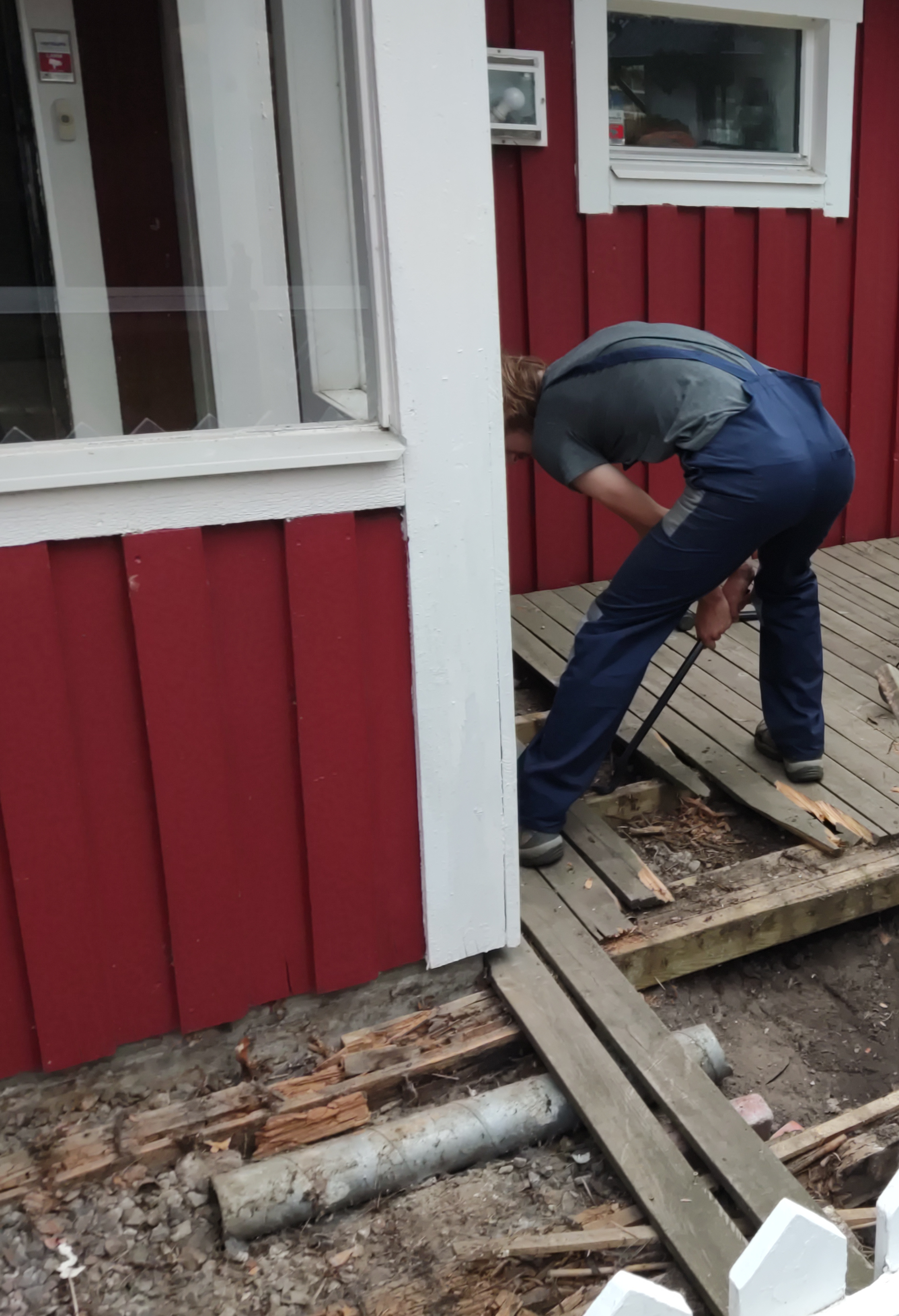 The new planks of treated lumber were cut to the millimeter and screwed in place with my old cordless screwdriver. Fortunately this time, I could resist the temptation to purchase a Makita high-torque screwer.
We also dug out the sand a bit deeper this time, and put stones under the rafters to keep them drier in the future to delay rotting with a few more years.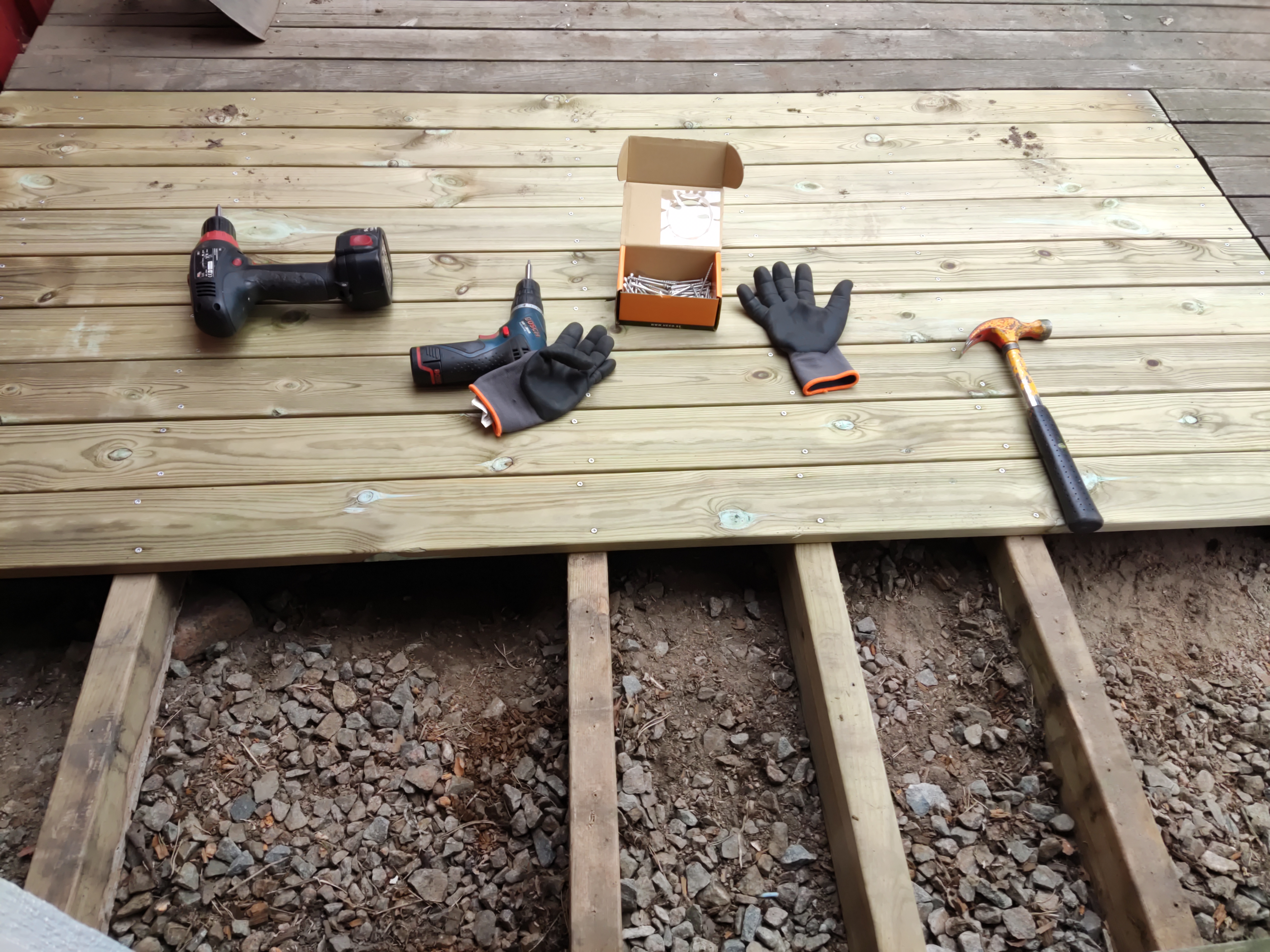 Now we have the new deck in place, which feels solid and nice to walk on. But my wise wife asked "Treated - with what?". And I couldn't answer.
"Something toxic, I guess." I said, ashamed of my ignorance.
Only now I realized that I had just gone to the local building supplies store and purchased a load of "deck planks" with "deck rafters", just like everybody. The default option was to choose the poison-plank-option. I tried to remember what I had read about pressure-treated lumber and Copper-Chrome-Arsenik mixes, and if they had been phased out or not.
I checked the brand name on internet and found that they nowadays use a copper-salt-mix that is mildly toxic to us, but very toxic to aquatic life. The runoff is up to 10% of the total treatment slurry, and it will all end up in our soils, and likely in one of our wells.
I felt so stupid. Was it worth it to pay half the price compared to untreated oak planks that were just as durable? (Well, I would have to drive half an hour to another town to get the planks, but still possible to combine with other travels.)
Here in Sweden the sweet chestnut wood is very difficult to come by, but that would be an even better rot-resistant alternative to the toxin-treated-spruce-lumber.
My task to myself is to plant lots of chestnut trees, both for nuts and for lumber, and I hope that I can grow enough wood for the rest of the deck when time comes to replace it all.
There has not really been a sweet chestnut tradition here, but there are more and more trees in parks and in gardens. Last week, we saw this beautiful specimen when we biked through the village Hasslöv: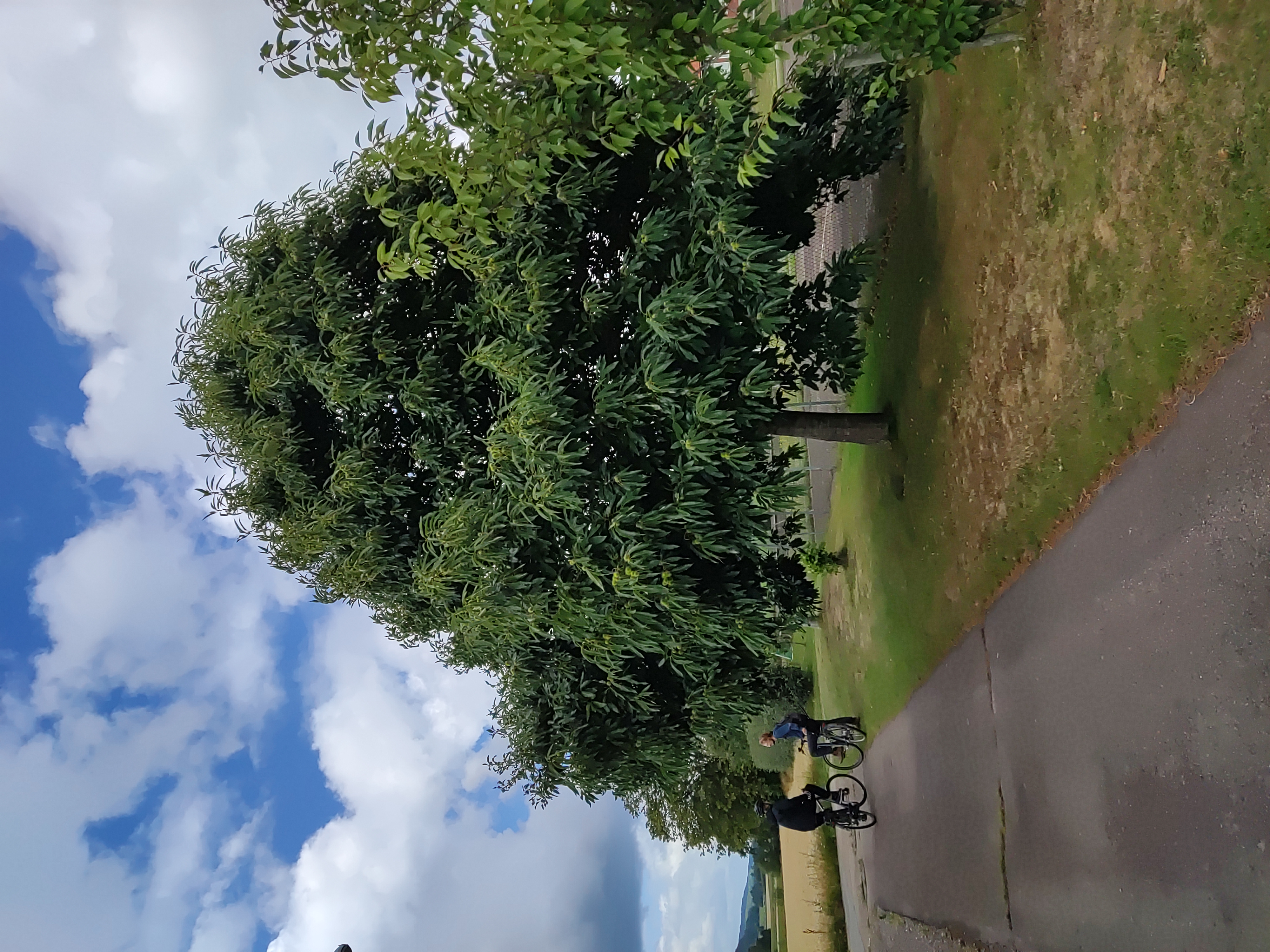 This single tree is not enough to cut planks for our deck, but it is a good starting point, and an indication that chestnut trees like the local conditions.
I decided to keep the newly positioned poison-planks in place for the time being, and I decided to get more involved with the lumber people in the province, to learn where I can get better wood next time.