Cold and dry
We have had two weeks of splendid weather. Cold and dry and beautiful.
Some days the mercury dipped below -15C, which is quite unusual here in Southern Sweden. Therefore, we have taken every opportunity to enjoy the freshness of the snow and the silhouettes from the frost.
Sunlight is scattered in every direction and these short days are a good time for reflections.
It has been an intense year, both physically and emotionally. Our boys moved out, into the world, on their own adventures, and I do sometimes feel phantom pains of the emptiness of our weekdays. We moved house, to this place, near the beautiful medieval town of Laholm. We have changed jobs, closed down our old enterprises and started new ones. We have wrestled with bureaucracy and jumped lots of hoops. Fortunately, we are doing it together, M and I. Now, it seems like we have got everything in place, so that we can take on the world in the new year.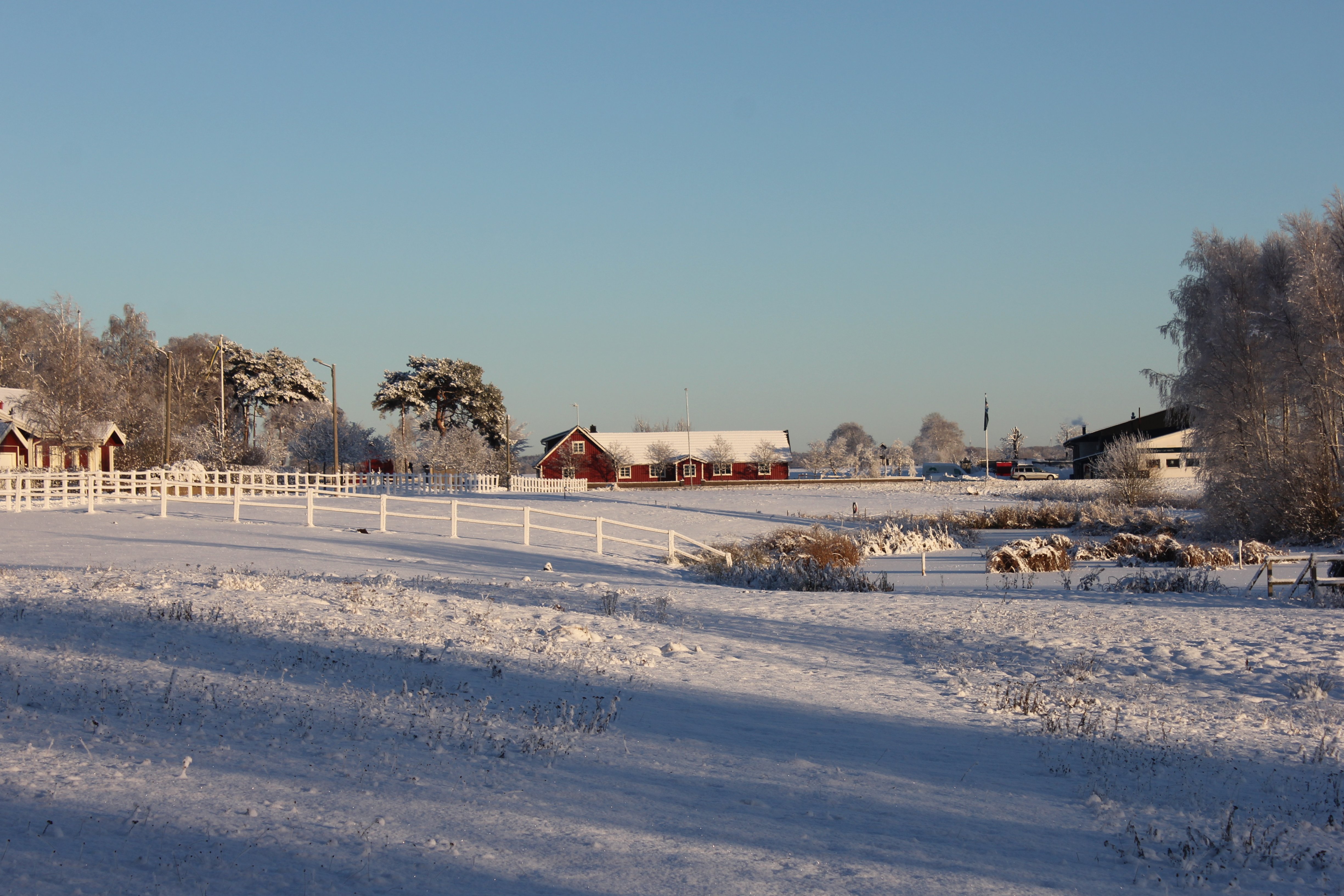 Our home. Warm inside.
We are lucky to have a good shed full of dry wood, and our supplies from last year are curing in the sunshine. Our woodstove is running from early morning to late night when the temperature is below 0, and we are getting better and better at controlling the fire.
In the beginning of the winter, I failed several times with getting the fire going, which filled our living room with smoke and unprintable words. However, now I think that both of us got the knack of using enough splinterwood and adjusting the levers in the right position for a slow but steady start.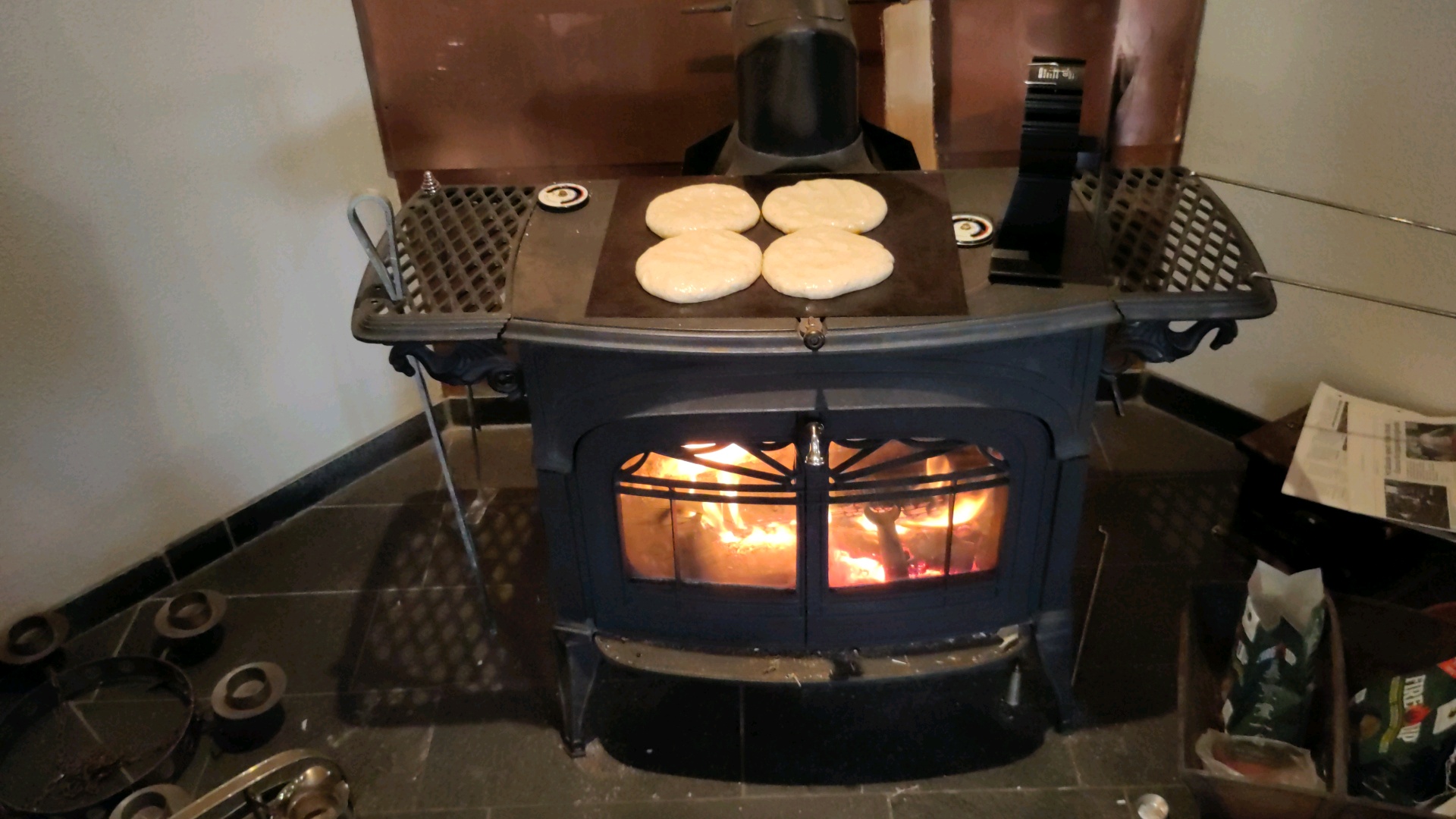 Cooking flat bread on the woodstove.
In the short days, we take walks outside to get to know the surroundings in a new way. The snow covered fields are silent and bright. Occasionally, we meet a neighbour who is also out for a walk. Most of the neighbours we meet on our walks have dogs, who force them out of their cozy domiciles.
Maybe we will also be dog people in the new year?
The snow reveals that other animals are moving around, not only domestic cats and dogs. Passing over our land the other night, a fox (?) has left his footprints, harbinger of future chicken havoc. We will have to make a secure cage for the birds that we want to start out with coming May.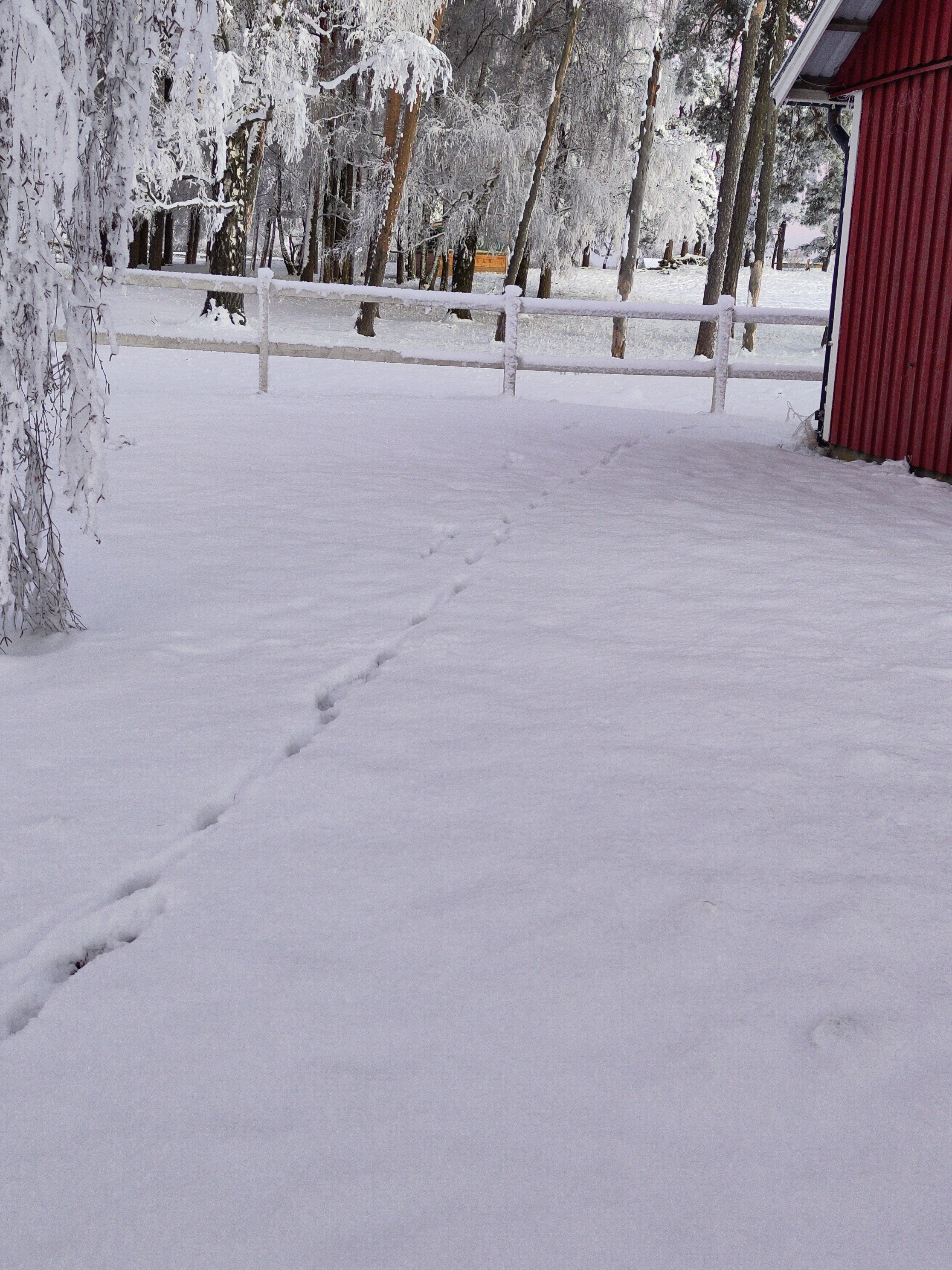 Footsteps of the fox.
To the south of us, is a geological ridge, the Halland Ridge, and we can barely make out the beech-wood forest that was planted two hundred years ago. We live in an area with very young soils, full of minerals and with lots of variation every few kilometers. There is still quite a lot of knowledge about which vegetables grows best in which field, even though the fields are also here growing, through consolidation of into larger and larger farms.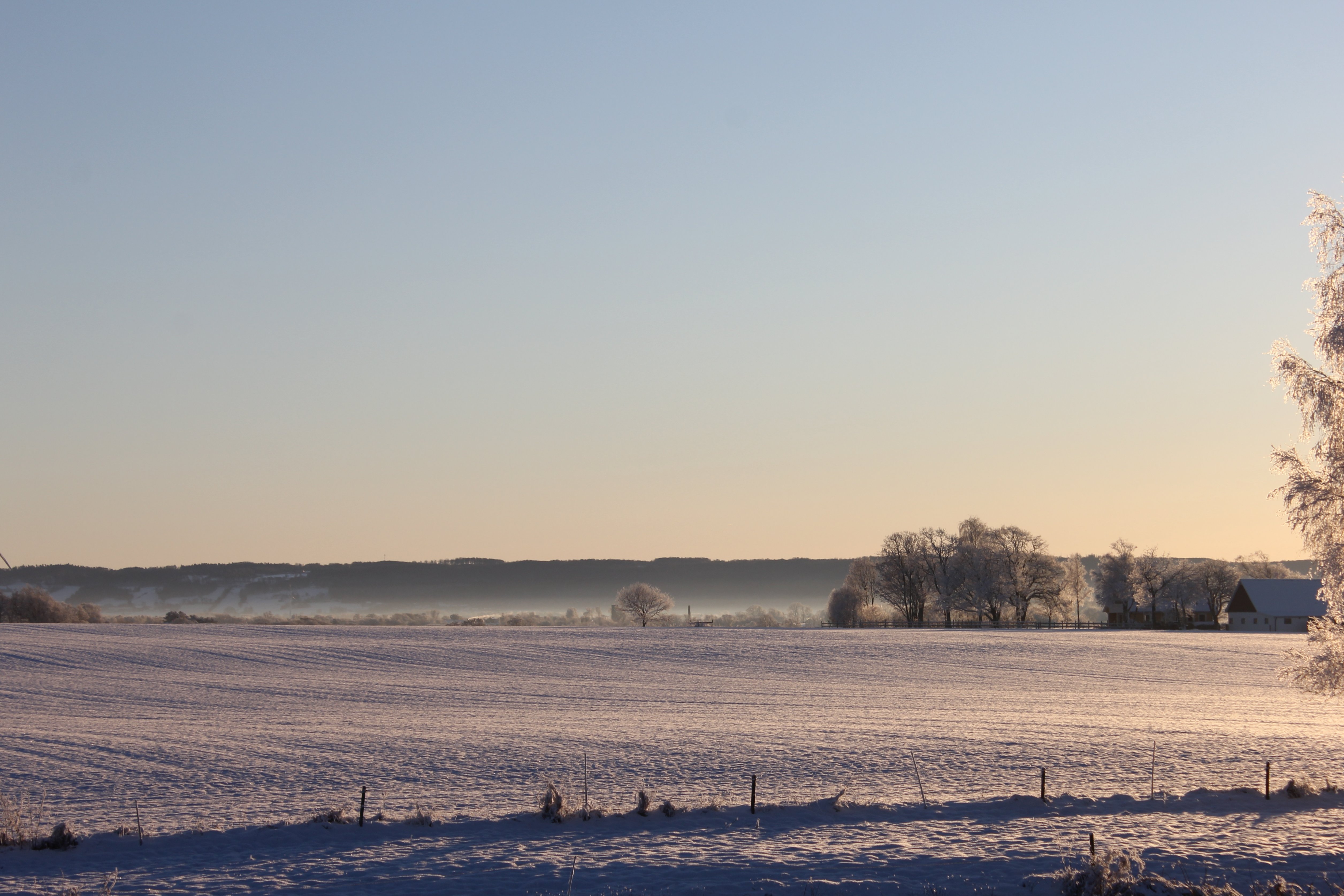 The Halland Ridge is a bit over 100m high, and stretches from deep inland out into the sea.
Our umbillical cord to civilization, the bike lane on the old train track, is swept by the municipality quite well. Only during the first days of snow, they were behind on the maintenance and it was a bit of a mess. However, now it is almost as good as always.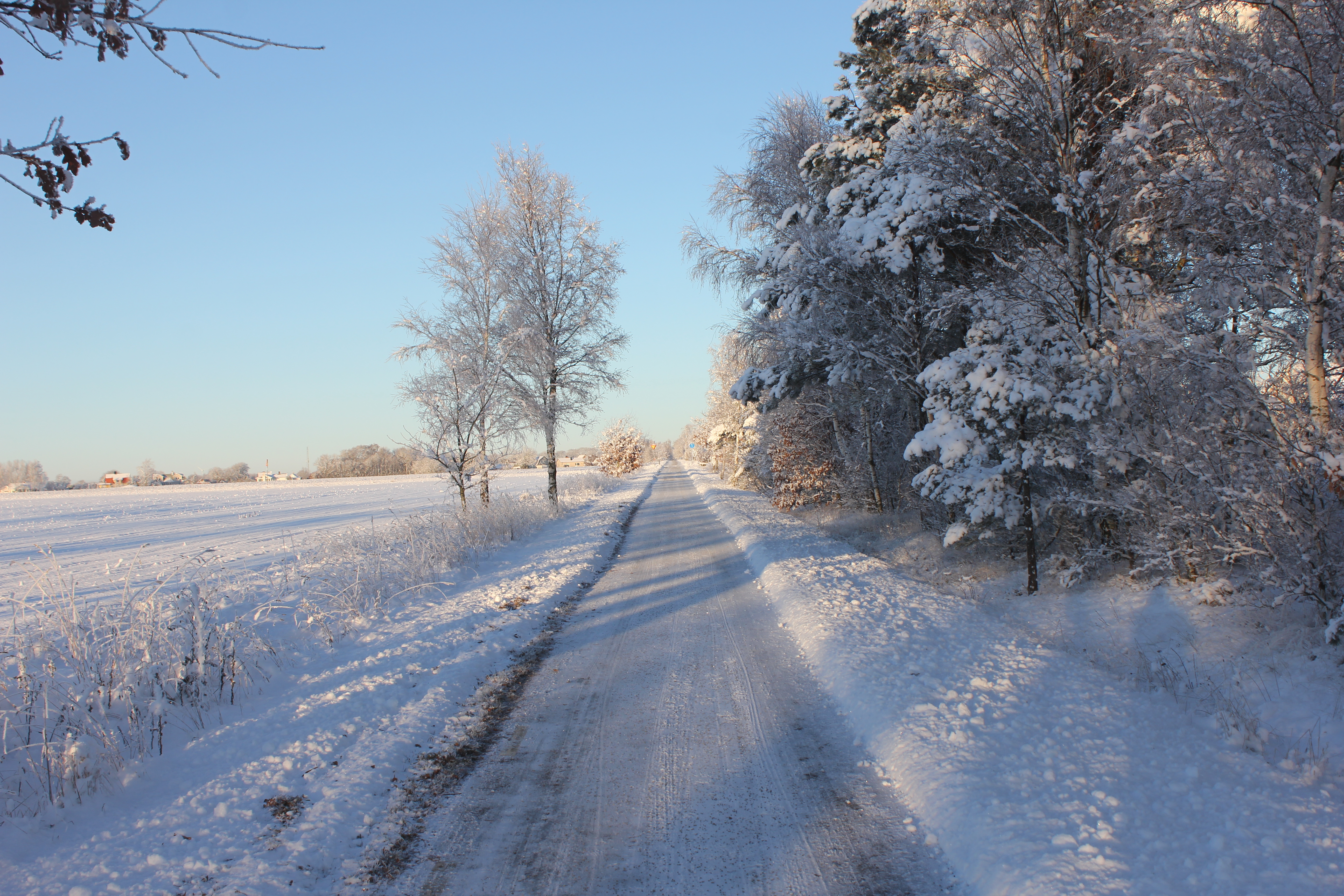 Until ten years ago, trains were moving here. Maybe one day in the future, the train tracks will come back.
The cold nights make the air dry. The remaining humidity crystallizes on all surfaces, and make things visible that we could not see before. Apparently, our whole house is covered in spiderwebs.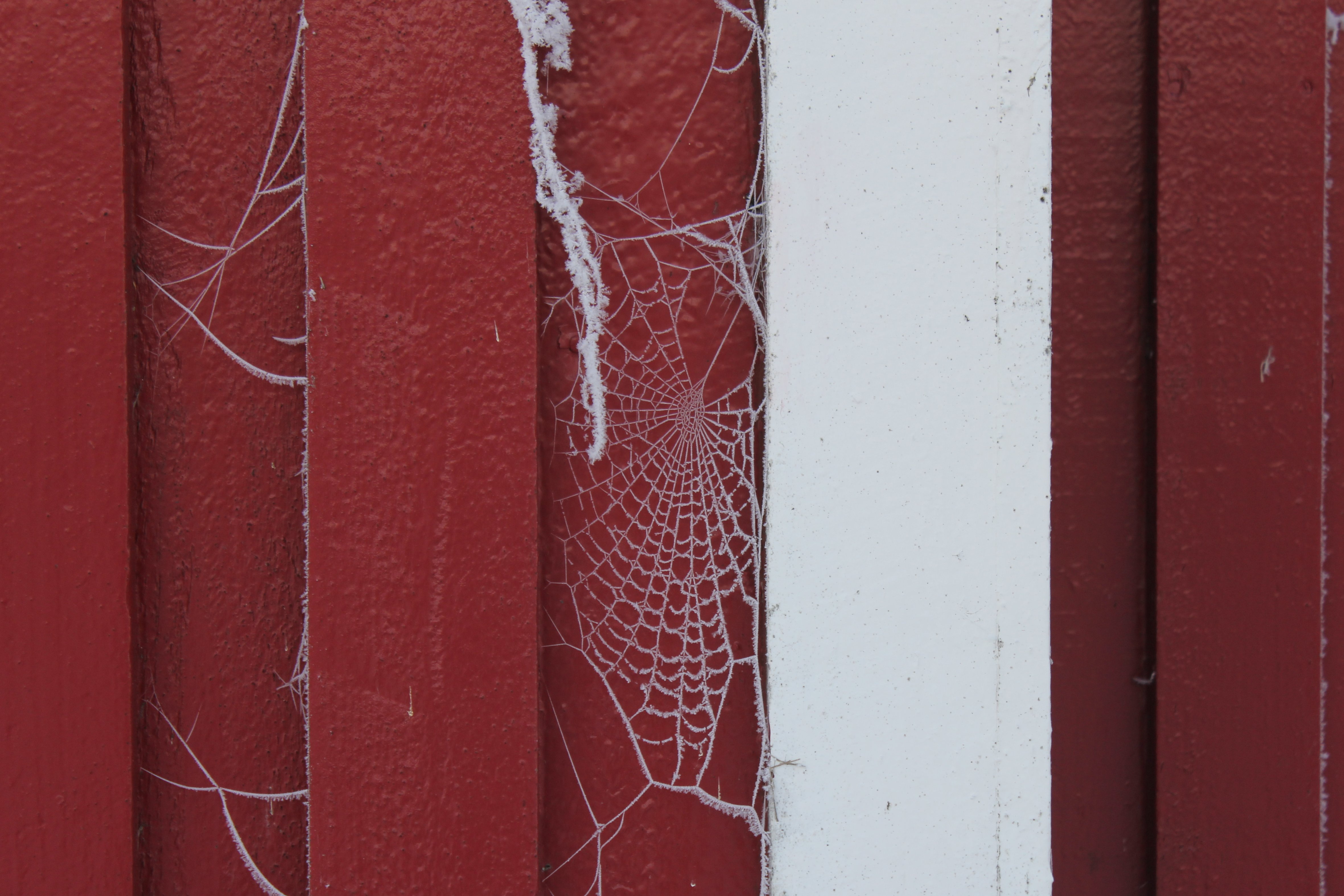 Spiderwebs everywhere.
To conclude, we are full of hope for the year to come. We are getting to know the place better and better, and look forward to the first gardening season in the new veggie beds. We know more and more people in the area, and slowly figure out how to work together.
Wish you all a beautiful year to come!